---
SVHEC Launches New College for Life Long Learning
---
FOR IMMEDIATE RELEASE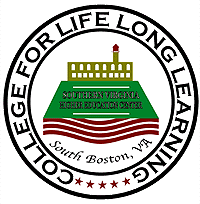 Advancing the region by developing educational partnerships and opportunities
For more information contact:
Hope Harris-Gayles
Communications Manager
hopegayles@svhed.org
434-572-5446
The Southern Virginia Higher Education Center announces the new College for Life Long Learning (COLLL). COLLL brings together the SVHEC's popular PJ 50+ and Special Interest programs into one program providing non-credit courses for adults of all ages. Registration for the new College for Life Long Learning will kick off December 7th with classes beginning January 12th. "The SVHEC is very excited about this new program series," said Patricia Ward, who is coordinating this program for the SVHEC. "People in our region are looking to enhance their skill sets, prepare for a second or third career, or just take classes for enrichment. They do not necessarily wish to go for another degree, but desire a non-credit class avenue. COLLL will provide this."
Course offerings are grouped into terms, and the cost is $45.00 per term. The $45.00 fee allows participants to take as many classes as they like within that term. Spring Term I will begin January 12 and run through March 15; Spring Term II will run March 16th through May 13th.
With eight classes scheduled for each term, and a slate of top-notch instructors, the College for Life Long Learning's inaugural semester promises to be an exciting one. Spring Term I will kick off with "Amazing American Women," a look at the wild and wacky antics of American womenóboth famous and those overlooked by most history books. This class will be followed by Making Chinese Silk Flowers and Quilting. Halifax Personal Chaplin Ami Hudson will lead a course entitled "Bad Girls of the Bible," a look at some of the imperfect women from the bible and what we can learn from them. For educators looking for recertification points, "Using Internet Technology for Classrooms" is the perfect solution. The class, taught by Dr. David House, will explore and identify novel approaches to using the Internet in the classroom, including Open Source, Free and Pay for Service software. Accomplished amateur musician Tim Owen will lead "Making Music for the Non-Musician," a come one, come all jam session for musicians of all abilities. Rounding out Term I are book discussions on two thought-provoking works: The Help by Kathryn Stockett and The Great Emergence by Phyllis Tickle.
The College for Life Long Learning's Spring Term II will offer even more opportunities for personal and professional enrichment. Term II will begin March 16th with "Gardening with the Master Gardeners." Just in time for spring, this course will give participants quality horticulture knowledge from a team of Halifax County Master Gardeners. On April 10th, the Master Gardeners will return for an all day Gardening Symposium covering new trends in gardening. "Staying Healthy During the Healthcare Crisis," a 10-part health and wellness series will give participants the tools and information needed to take a more proactive role in his/her personal health and healthcare decisions. Larry Harris, Director of the Longwood Small Business Development Center, will lead a course on starting a small business. This course, for new and existing entrepreneurs, will provide valuable information and tips to help small businesses thrive and survive in the recovering economy. Those interested in learning more about the Facebook and social networking craze will enjoy "Facebook for Adults," while "Digital Photography: Tips and Tricks" will give participants the tools they need to take beautiful digital photos.
Book discussions on Jon Meachem's "The American Gospel" and Hillary Jordan's "Mudbound" will complete Term II's course offerings. Father Gary Butterworth will lead the discussion on Meachem's work examining the Founding Fathers' view of faith, and how they ultimately created a nation in which belief in God is a matter of choice. SVHEC's Data Specialist and Mississippi native Catherine Stevens will lead the discussion on "Mudbound," the story of an unlikely friendship between two World War II veterans who have returned to life on a farm in the Mississippi Delta. One is a white farmer haunted by his combat memories; the other is the son of black sharecroppers who must bear the indignities of the Jim Crow South despite returning to Mississippi a war hero.
"I think COLLL participants will be impressed with the caliber of all of our instructorsótop notch, informed, professional, and entertaining," said Patricia Ward. The College for Life Long Learning is an initiative of the Southern Virginia Higher Education Center. For more information visit www.svhed.org, or contact Patricia Ward, Coordinator for the Arts, at 434-572-5475 or patriciaward@svhed.org. Complete course descriptions and registration forms are available at www.svhed.org or by picking up a form to the Southern Virginia Higher Education Center.
COLLEGE OF LIFE LONG LEARNING CLASS LISTING
Term I
Amazing American Women
Making Chinese Silk Flowers
Quilting
Bad Girls of the Bible
Book Discussion: The Help
Book Discussion: The Great Emergence
Making Music for the Non-Musician
Using Internet Technology for Classrooms

Term II
Gardening with the Master Gardeners
Staying Healthy During the Healthcare Crisis
Smart Start: Getting Started in a Small Business
Book Discussion: The American Gospel
Garden Symposium: New Trends in Gardening
Facebook for Adults
Book Discussion: Mudbound
Digital Photography Tips & Tricks
_____________
820 Bruce Street, South Boston, VA 24592
Phone: 434.572.5440 Toll Free: 1-800-283-0098 FAX 434-572-5462
http://www.svhed.org