---
Fighter Flight Against Cancer
---
Flying For A Cure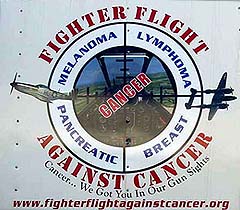 November 6th - 8th, 2009
Danville Regional Airport
Back in the July issue we ran a story about a model aircraft Fly-in event put on by the Keeling Sky Raiders RC Club. At that time we learned that the Fly-In was put on to raise funds to sponsor another event, The Fighter Flight Against Cancer. The Keeling event was successful in that it raised enough money, along with generous donations from many local people and businesses to cover the expenses to put on the November event.
On November 6th - 8th. 2009 the Keeling Sky Raiders turned out in force to host the second annual Fighter Flight Against Cancer at the Danville Regional Airport.
According to Mike Martin, one of the club members and event organizer, in 2007 his father Kenneth "Marty" Martin, a retired Air Force man with a passion for World War II aircraft, lost his 10-year fight against Melanoma cancer. In keeping a promise to his father, Mike enlisted the support of the club to put on the Fighter Flight Against Cancer as a way to raise money for the American Cancer Society.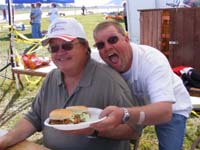 Mike Martin in danger of loosing his dinner to Mark Francisco Western Sizzlin of Danville provided food for the event.
The 2009 Fighter Flight Against Cancer ran from Friday November 6th through Sunday November 8th. We were able to get out to the event on Friday afternoon, get a few pictures and talk to some of the pilots and organizers.
If you have never been to a major Fly-In you can't appreciate the atmosphere. The camaraderie is so strong you can almost feel it. The talent of the pilots is impressive and the creativity displayed by builders of some of the aircraft is amazing.
| | |
| --- | --- |
| You won't find a lawnmower like this at the local lawn and garden center | Yes, it really flys |
At an event like this you may see not only conventional fixed wing planes, but helicopters, jets and even a flying doghouse or lawnmower. Expect the unexpected, in aircraft at an RC Fly-In.

One of the pilots we spoke to had a bad start to the weekend.
| | |
| --- | --- |
| An RC Jet preparing for takeoff | This is what an RC Jet looks like after a crash. |
While performing a low level loop with his radio controlled Jet, Charlie Lasley, of Walnut Cove, NC brought it out too low and crashed on the tarmac, destroying a very expensive Jet aircraft. Charlie was and good humored about it when we spoke to him. He said it was just pilot error. "I just miscalculated and started my loop too low and couldn't pull it up.", said Lasley.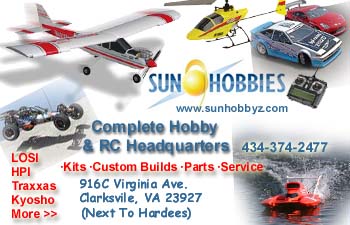 We wonder if we would have had the honesty and humility to keep us from trying to blame it on air currents or a mechanical malfunction.

Other commitments kept us from returning on Saturday or Sunday, but Terri Banes and club president Mark Francisco were there for the weekend and were good enough to send us many great pictures. [See Photo Gallery] Terri, Mark and Mike Martin also kept us informed about the results. Final tally for the weekend had over 60 pilots with around 150 -180 aircraft,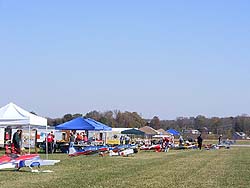 A good turn out for the 3-day event

as each pilot usually brings two or three planes. By their best estimates they had approximately 800 people come out to show support and watch the planes fly.

On Sunday November 29th, we had the good fortune to witness the final results of the Fighter Flight success story. Early that morning we received a phone call to come out to the Sky Raiders home field at 2:15 PM to watch as the club presented a check to Robert Stowe, community manager for the Southside region of the American Cancer Society. For their efforts, after covering all expenses, and banking seed money for next year's planned event, the Sky Raiders were able to donate $1,300 to the American Cancer Society to help find a cure.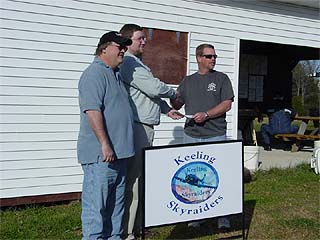 Keeling Sky Raiders President Mark Francisco and event organizer Mike Martin present check to Robert Stowe of the American Cancer Society
See more pictures of the event >>
Related Links:
Fighter Flight Photo Gallery
fighterflight2009_gallery.asp
Fighter Flight Against Cancer
www.fighterflightagainstcancer.org
American Cancer Society
www.cancer.org
Keeling Sky Raiders
Fly-In Story