---
Minivan Camping Adventure
---
By Michael Ray
During the winter, I look forward to this time of year...CAMPING SEASON!!!...IT'S HERE...IT'S HERE...IT'S FINALLY HERE!!!
For me, camping is one of life's greatest diversions. I don't worry about all the lights being left on at all times of the day, running up the power bill. I almost forget that I have a job back in the real world, and I can pee in the woods!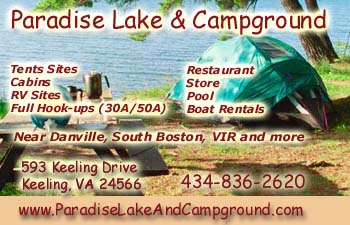 Let's just forget that last part and focus on the story I'm about to tell you.
It's was quite a few years ago when I bought a ten year old minivan. The van was what I like to call an "inbetwixted ride." It wasn't a total junker, and it was definitely not luxury. It was somewhere in between. I called my van Sport because that's what the logo on the side said it was. I think the "sport" in that minivan had retired long before I became the owner. Every time I would leave the house to go to work, I would look at Sport and imagine that it was one of those cool Chevy vans from the 70's. Those Chevy vans always had a mural painted on the side, shiny chrome wheels, loud stereos and shag carpet in the back. My Sport had faded paint, no hubcaps, two bench seats in the back and a bumper sticker that read " My Child Is An Honor Roll Student." I'll bet some soccer mom stuck that on there.
In the summer of 1999, my wife and I had the honor of babysitting a niece and nephew for two weeks.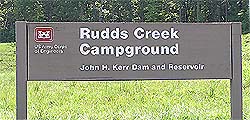 Those two teenagers were constantly reminding me of how bored they were and how my two younger kids wouldn't leave them alone. So, I decided that the perfect thing to do would be to take them all camping. Our camping destination would be Rudds Creek Campground in good ol' Southside, Va. The loving wife decided that two nights camping would be enough. I did the husbandly thing, reserved three nights and decided to tell the wife later.
Now, let me just start this part of the story by saying, I had fun no matter what happened.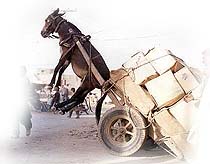 When I finished loading up the van, Sport looked like a pack mule that was about to collapse under the weight. I hadn't thought much about where everyone would sit. I did not pack a single thing in the seats but I sure used the floor space around them. To me, it looked like two bench seat islands in a sea of camping equipment. The loving wife stood beside Sport for a few minutes. Then, she started to chuckle. She eased into the passenger seat and said to me "I just remembered; I packed Tylenol."
My two kids happily climbed over camping stuff until they reached the bench seat island in back. Both started chanting, "Let's go, Let's go, Let's go." They love camping, as long as S'mores are part of the plans. I could talk my kids into anything as long as I promise them that chocolate, marshmallow and graham cracker treat.
My nephew made some comment about being only a year away from driving and that he would never pack his friends into any car this crowded.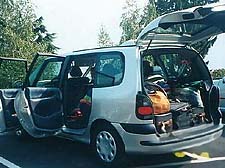 As my nephew was trying to figure out how to sit on the middle bench seat island, crossed legs or knees to the chest, a car pulled into our driveway.
My niece ran over to the car and opened the passenger door. Out stepped another teenage girl with a pillow under her arm. Those sneaky teenage girls. Sometimes they pull a fast one on you and you just let 'em win. This was one of those times. The loving wife and I did the five-minute meet and greet with pillow girl's mom. We promised to keep her alive. She waved bye-bye and jumped into any space she could find. I cranked Sport and off we went.
The thirty-minute ride was uneventful until we were within site of the Rudds Creek sign.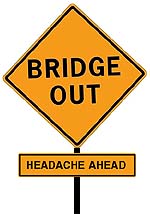 There was a new bridge being built, right beside the campground. Oh boy.
All of us had fun setting up camp. The one mistake I made while packing for this trip was not packing enough lawn chairs. I solved the problem by taking the two bench seats out of Sport. Here's a tip for all of you minivan owners. Spray your bench seats with ant killer if you use them for campground couches. I wish I had. Now, back to the story.
We had a site directly across from the playground and swim area. "Let The Fun Begin." I proclaimed. I took off my shirt, ran across the man-made beach and jumped into the lake. Everyone followed. We should've put our bathing suits on first. The remainder of the day went smoothly.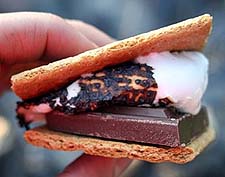 After a hot dog supper, we made S'mores, told ghost stories and crawled into our tent. The teenage nephew was directed toward the pup tent, and pillow girl was told to "Stay Away From The Pup Tent."
We were awakened the next morning at 7:01 AM. There was a very loud TINK !...TINK !...TINK !...one minute pause and TINK !...TINK !...TINK !!! Think about what a giant metal hammer would sound like hitting a giant metal nail. That's the sound of a bridge being built. I strategically used one of the TINKS to say a curse word. The loving wife used the other two TINKS !!! The noise would stop at 11:59 AM. The loving wife and I would take two Tylenol each and watch the kids play as if in some type of trance.
The next morning we got up at 7:00 AM and braced ourselves. At 7:01 AM the TINK !...TINK !..TINK !!! started again.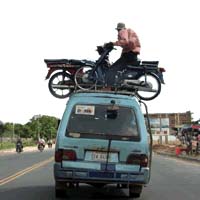 At 7:02 AM, we packed the camping equipment. I got behind the wheel, turned the key and nothing happened. Poor Sport's battery was "deader" than my eardrums. The loving wife gave me two Tylenol. I found another zombified camper a few sites away that was willing to jump the minivan in exchange for a handful of Tylenol. Sport came alive and I drove away laughing hysterically.
I never did tell the loving wife about the extra night. And the niece and nephew were perfect angels for the remainder of their stay.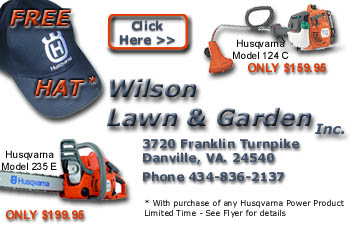 __________
Michael Ray is a native of Halifax County and and has only been banned from a few of the campgrounds in Southside Virginia.
You can E-Mail Michael Ray at: michaelray@discoversouthside.com
__________