---
Ask Bubba
---
The Bubba Clause
Dear Bubba,

I want to get my sweetheart sumthin' real special this Christmas. I wuz thinkin' about maybe a gift from the 12 Days of Christmas, but I ain't really into the livestock thing.

Got any suggestions?

Signed,

Gift Idea Challenged
Dear Challenged,
Here is somethin' fun and useful you might try. You can make it yourself from stuff you mostly have around the house already.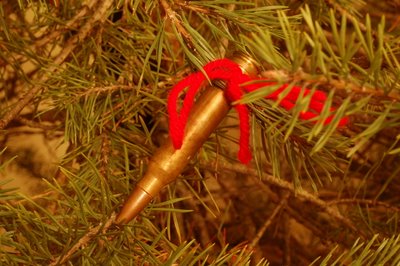 "A Cartridge in a Bare Tree"
(Tell me you didn't see this comin')
If that ain't down right creee-ate-ive, Bubba don' know what is.
Now if she don't take that cartidge and shoot yore cheep self with it, take the extry money you got left over and get on down to the mall and get her something nice like a flannel robe or somethin'.
Signed,

Bubba
------------------------
Dear Bubba,

We are tired of the same ole pine needley Christmas trees every year. All around us it is nuthin' but pines and cedars. So me and the Mizzus thought we would ask you for some idears on a diff-runt tree this year. We still want lights and to dec-o-rate it all up nice though.

Ken ya give us some a place to start?

Signed,

Nuthin' Unner the Tree
Evergreen, VA
Dear NUT,
You are in luck. As you know Ol' Bubba is forever scoutin' arount the Internet looking for great holiday fixin's. Here are a couple fun (and deaf-in-ate-ly not pine) Christmas Tree alternatives for you.
| | |
| --- | --- |
| | |
| A Mt Dew Christmas Tree | Don't she look purty all lit up? |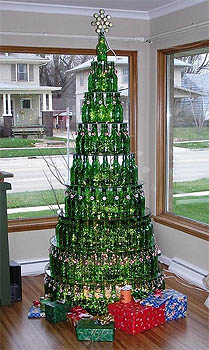 Ain't it all sparkelly with the natural lite shinin' through?
Don't try and make this tree all in one day. (UUrrp)
Hope these examples gives yer brain a jump start.
Signed,

Bubba
------------------------
Dear Bubba,

I have lost my Aunties famous Fruit Cake recipe. My family is comin' over for Christmas and I needs a replacement mighty quick. Can you dig into your recipes from Bubba's kitchin and send me something I can use to bluff my way outta this.

Signed,

Fruit cake lover
Mess-o-nutten, VA
Dear Fruit Cake,
Try this one. Not from Bubba's Kitchen, but sounds good.
Tequila Christmas Cake
Ingredients:
1 cup of water
1 tsp baking soda
1 cup of sugar
1 tsp salt
1 cup of brown sugar
Lemon juice
4 large eggs
Nuts
1 bottle tequila
2 cups of dried fruit
Sample the tequila to check quality. Take a large bowl, check the tequila again. To be sure it is of the highest quality, pour one level cup and drink.
Repeat.
Turn on the electric mixer. Beat one cup of butter in a large fluffy bowl. Add one teaspoon of sugar. Beat again.
At this point it's best to make sure the tequila is still OK. Try another cup... just in case.
Turn off the mixerer thingy. Break 2 leggs and add to the bowl and chuck in the cup of dried fruit.
Pick the &%#!@*! fruit up off floor. Mix on the turner.
If the fried druit gets stuck in the beaterers just pry it loose with a drewscriver.
Sample the tequila to check for tonsisticity.
Next, sift two cups of salt. Or something. Check the tequila.
Now shift the lemon juice and strain your nuts. Add one table.
Add a spoon of sugar, or somefink. Whatever you can find.
Greash the oven. Turn the cake tin 360 degrees and try not to fall over. Don't forget to beat off the turner.
Finally, throw the bowl through the window. Finish the tequila and wipe counter with the cat.
CHERRY
MISTMAS!
Hope this helps ya outta yer sticky perdickymint.
Don' fergit to save Bubba slice.
Signed,

Bubba
------------------------
That's all for this month.
If you have a question burnin' a hole in yer noggin, Bubba can help.
Just E-Mail Bubba
askbubba@discoversouthside.com
------------------------
Disclaimer: Use of the Bogus advice above is probably foolish.
Remember - do not drink alcohol, Mt Dew or Fruit Cake to excess. And do not attempt to drive, operate heavy machinery, or carry on a conversation with your spouse, boss (or anyone else really) while under the influence of any of the above.
Some of the stuff above is a trademark of one manufacturer or another, has no connection with Bubba or DSS, and probably shouldn't be talked about by brand name anyway.
Have a safe and Happy Holiday.