---
Editor's Page
---
The Fruitcake That Wouldn't Die
Since I am one of the eleven people in the universe who actually LIKE Fruitcake; I suppose I don't mind seeing the fruit cake displays in the grocery store as early as September.
When all those bricks of mystery food finally disappear from the shelves into whatever parallel dimension fruitcake goes between mid-January and the following fall, I will miss them.
Although I do question how fresh some of the loaves will be by the time New Years comes around. I don't think Fruitcake has an expiration date; it has an atomic half-life. I do know the stuff is indestructible.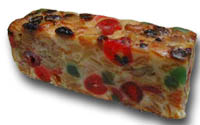 Short-ish version of a long story.
The names have not been changed to protect the guilty.
Back in our wilder years, two friends and I had a tradition of "Pass the Fruitcake". I confess I started it one dark night as I left a loaf of Fruitcake on their doorstep.
Mark and Vince shared a house at the time, so we were never sure on whom the Fruitcake was inflicted. Somehow, Vince wound up with the Fruitcake and froze it. The following Christmas, the Fruitcake came back to haunt me. And so it started. By the next year, one of the guys had gotten married and moved out. So I stuck Vince with the loaf.
For the next several years, the Fruitcake was passed back and forth between Vince and I.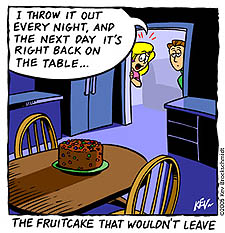 Each time it became a game to see how to sneak it back to the previous owner. As we got wise to it, it became more of a challenge each year to see if we could outwit each other. One year, I got it in a large heavy box, full of firewood, with the Fruitcake neatly packed inside. Another time, I was visiting Vince's house a few days before Christmas and hid the thing in a basket under some towels. I called Vince (long distance) on Christmas morning and told him where it was.
Eventually we quit freezing it. But the tradition continued. We began to worry it might become a legacy from which our children would suffer. Should a provision for this be put into a living will, or left to be handled in probate after our eventual passing?
Alas (or fortunately) the fruitcake met its demise in 1999 when the Floodwaters of Hurricane Floyd destroyed my house in North Carolina. The fruitcake actually survived the flood better than the house and furnishings, and much of the landscape, but was in no condition to continue its tradition; so it was retired without ceremony.
I miss that Fruitcake. The loaf thing, not Vince. He's still around. Usually waiting for the beginning of deer season so he can give me a hard time about tenderloins. But that is another story, for another time.
As a public service -
If any of you readers, get stuck with Fruitcake and really don't know what to do to dispose of it, here is a site, which can help. Fruitcake Recyclers offers a variety of services to either re-cycle or dispose of your Fruitcake. To relieve you of the burden of proof of disposal, they will even send you a "Certificate of Re-cycling."
Fruitcake - "The Re-Gift that keeps on Re-Giving"
WB Carver - Editor/Publisher