---
South Winds
(Random thoughts)
---
The Hanukkah Bush
In spite of both real issues and dire predictions about the economy this year "HallowThanksMas" started right on time. In other words, about the time in late August when you can't find a bathing suit in the stores anymore.
I (your choice of word for strongly dislike) all the commercialism of the holidays. Somewhere in my lifetime, we have lost track of what the holidays are suppose to be all about. Time to share the joy of the season with friends and family. Time to give thanks for our blessings. Time to rebuild our spirits. Instead it has become one big spend fest. Where we have stopped thinking about how to give from the heart, not from the wallet.
This year set a new record for stupid, with a W-Mart worker getting trampled in the opening minutes of "Black Friday". Trampled by people so obsessed with getting that whatever a bit cheaper; they can't possibly be feeling anything about the season. I am so stunned I can't even comment.
I would really prefer to enjoy one holiday at a time. This business of running them all into one get me steamed.
I suppose one of the things that irks me the most is while it seems OK to jam all the commercialism of the holidays together into one muddy bucket, Heaven forbid you wish someone the wrong holiday greeting.
I have never taken offense at being wished good will. If someone says have a nice this, or a merry that, I try to take it in the spirit in which I want to believe it was meant. Do we really need to sanitize it with a generic greeting?
I am decorating challenged. Personally I can't make tinsel hang right. With all the Hallmark ornaments in the mall, my tree is still going to look like Charlie Brown decorated it. But that's OK. It is the spirit of the thing. I have fun anyway.
When I was a child, my Aunt always had the prettiest Christmas tree. Her trees always looked like something out of a catalog. I don't know how she did it. I guess she's just talented in that way. I also don't really know about my Aunt's personal level of faith in the religious sense, but I do know she seemed to enjoy Christmas.
About the time I was a young teen, my Aunt married a wonderful man who just happened to be Jewish. I really don't know about the depth of his religious convictions either. But I do know he introduced us to a concept. The concept of acceptance. He did this very simply. He called my Aunt's Christmas Tree a "Hanukkah Bush" as he proceeded to enjoy the holiday with us. He never made any effort to push his beliefs on us, and as far as I know, he never has abandoned his own. Acceptance.
If one person who reads this thinks about the Hanukkah Bush, and accepts a greeting in other than their preferred phrase; in the spirit it was probably meant, I have given at least one gift this year that didn't cost anything. And I have received much.
To all of you in Southside, or wherever you may be reading this from....
I wish you a safe and happy holiday season.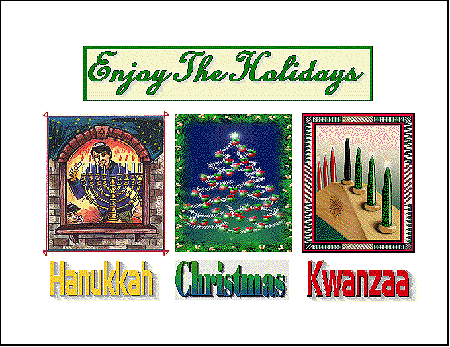 -= FCOIT =-
If you have questions or comments about the Southwinds page
E-mail: fcoit@discoversouthside.com