---
South Winds
(Random thoughts)
---
Edgewater Buffington
When I was young, from my earliest memories, my family had a yellow Labrador Retriever nicknamed Spectre. He was so named because he was born on, or near Halloween. Spectre was not the usual cream or buff color of most yellow Labs. He was a rich golden color, more like a Golden Retriever. He was the color of autumn. He was also, as most Labs are, smart and willing to please.
In recent conversations with some of my family, there has been some disagreement about whether this story is really about Spectre or one of his litter brothers.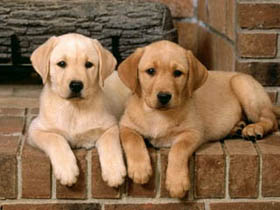 Have you ever had one of those conversations with family or old friends where you wonder if one of the other of you was living in a different universe? You might both remember the situation, but you remember it SO differently, you are not sure it is even the same story. I think this is because, memories fade and perspectives get distorted. Different parts of the story were more important to one person than the other. So you remember your highlights and "re-remember" the rest through your own filters. But I digress. And since I am the one telling this story, it will be the way I remember it.
Spectre's registered name originally was Buffington. He was the brightest and the best of his litter. He learned things before the others did. The one thing he couldn't quite get right, for all his trying, was to paper train. True, he was the first one to go on the paper, but he couldn't quite get it all on the paper. So his eager efforts wound up half on the paper and half on the floor. So his name became Edgewater Buffington. Rather a regal name, if you don't consider the origins.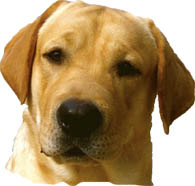 Time went by and Edgewater Buffington became Spectre and grew up. Since I don't remember this being an issue later, I assume he eventually learned to get completely on the paper or just go outside. He spent his years on our farm, chasing rabbits and woodchucks, and keeping watch over the farm and family. No dog lives forever and when I was about 15, we buried him out in the back field.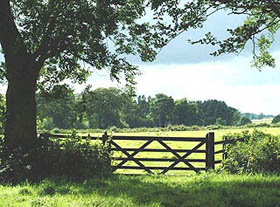 As with many things from our childhoods, I will always remember Spectre fondly. However, the thing I really remember most often is the story of his becoming Edgewater Buffington.
I have a peculiar habit. In spite of my best intentions to do otherwise, I tend to put things on the edge. If I put a tool back on the bench, it only seems to make it to the edge of the bench. When I put the milk back in the refrigerator, I put it on the edge of the shelf. Just enough to be fully on the shelf, but no more than that. It is times like these when I think of Edgewater Buffington.
This habit of mine has caused some minor problems. Most recently this came home to me one morning about midway through my first cup of coffee. Walking through the dining room, coffee cup in hand, I decided I needed both hands for something.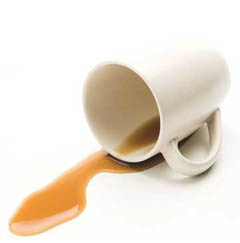 So I put my coffee cup down on the dining room table. Of course, I sat it on the edge. In an effort to protect the table from the hot and possibly wet cup, I sat it on some junk mail that was sitting there, also on the edge. This situation produced some very predictable results. As though in slow motion the cup and stack of mail slid inexorably toward the brink. I watched in horror as the cup and contents soaked my chair, the floor, my shoes and last pair of clean socks. Edgewater Buffington.
I once had a friend and mentor, with whom I discussed bits of philosophy about everyday life. The subject often came up about priorities and making room in life for things. Things such as time for work and time for play. How much time to devote to personal growth, and how much to devote to family obligations. People often call it finding balance in life. This term used to bother my friend. He always preferred to call it finding the center. He said, "Balance always makes me feel like teetering. As if one little weight one way or the other could tip the scales."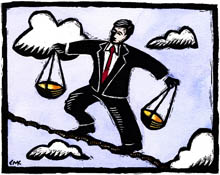 I can consciously make myself put things in the middle. It is really a good idea. Today I prefer to think if things are right in my life, I am "centered". I don't have to be perfect if I am in the center. I have room for mistakes and imperfections. I have room for change and adding new things to my life. Obviously one cannot put everything on the edge of a shelf or table. Sooner or later you have to push things around to make more room. Life is like that.
I suppose I will always tend to put things on the edge if I don't think about it. If the worst that happens is some spilled coffee or a dropped wrench, it is minor in the scheme of things. It is when I find myself pushing my commitments, my faith, or my relationships to the edge; I know I need to look at what is going on in my life. Time to get my mess into the center of the paper.
Edgewater Buffington.
-= FCOIT =-
If you have questions or comments about the Southwinds page
E-mail: fcoit@discoversouthside.com