---
Hunting Creek Vineyards Harvest Party
---
When a Harvest Party becomes a Hurricane Party...
Pickin' (grapes) & Grinnin' (from ear to ear)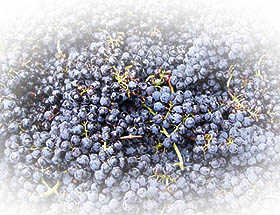 The Forecast
With Hurricane Hanna headed up the coast, and bad weather forecast for central Virginia, the race was on to get the grapes harvested before the season's crop was lost...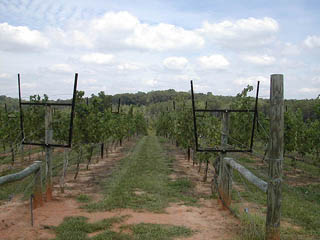 It all started back in mid-August with an invitation to attend a Harvest Party at Hunting Creek Vineyards in Clover, owned by Milt and Sandy McPherson. Last year, friends of the McPhersons had so enjoyed helping out with the harvest that it was decided to make an event of it for this year. The Harvest Party was planned for 9 AM, Saturday, September 6th and promised fun, fellowship and food, (awesome Barbeque, cooked all night by Steve Vaughan) to follow for the participants.
On Tuesday, September 2nd, the Harvest Party became a Hurricane Party and the schedule got pushed ahead. An e-mail went out calling for available hands to come on Thursday and Friday.
The E-Mail
----- Original Message -----
From: miltandsandy@********.com
Sent: Tuesday, September 02, 2008 9:48 PM
Subject: Harvest Party Update
We have been hearing a lot about the hurricane/tropical storm Hanna this week. It looks like the rain is expected to start Friday evening here so we are picking grapes on Thurs. afternoon and Friday a.m.
WE ARE STILL HAVING THE HARVEST/HURRICANE PARTY ON SATURDAY!!!!
The only differences are that you can come more like noon time and we will have LOTS of BBQ, wine, and other food. We will be in the shelter of our large winery building. We will be doing some crushing of the grapes so you can still get that winery experience. Franklin Kluttz, a great friend and mentor who is always at the harvest, starts the crush each year with the words "AHHH the Crush". We hope you can make it.
I have more gravel being laid on the driveway tomorrow so you can have a nice drive in.
IF ANY OF YOU WANT TO COME AND PICK GRAPES ON THURSDAY AFTERNOON OR FRIDAY MORNING WE WILL WELCOME YOU WITH OPEN ARMS, HEARTS, AND PRUNERS!!
SANDY AND MILT
The Harvest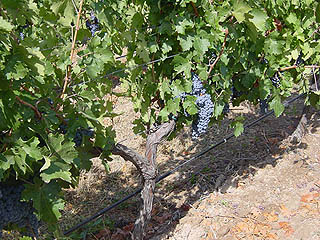 Not one to miss out on the excitement, yours truly arranged to make it out there on Friday. Friday morning dawned clear, warm and no rain yet on the radar. When I arrived at Hunting Creek, I was greeted by Sandy and Milt, their sons, about a dozen other family and friend volunteers, and a bucket of pruners. After a crash course in grape harvesting, we headed up the vines.
Harvesting grapes is so much nicer than most anything else I have ever picked. You work standing upright and get to clip bunches rather than individual fruit. I confess I had visions of picking individual grapes. Thankfully that is not how it is done.
With between 15 to 20 people picking and several hauling the full totes (they called them "lugs"), the job went pretty quickly.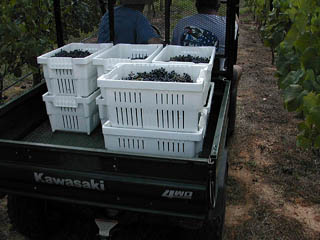 The weather held and by mid-afternoon we had harvested around 2000 pounds of Petit Verdot grapes from the 3/4 acre section of vineyard.
The 2000 pounds of grapes we picked on Friday translates into about 150 gallons of wine which means about 60 cases. In the days prior, they had already harvested about 2200 pounds of Viogner, and about 2500 pounds of Merlot. Not a bad harvest from vines which according to the McPhersons are not yet fully mature and will bear fruit for many more years.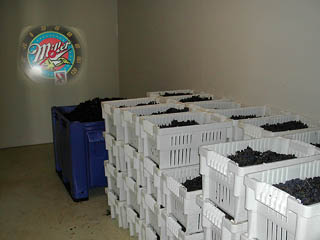 When they were deciding on which grape varieties to grow, on a recommendation from Virginia Tech the McPhersons chose two of their three varieties, Petit Verdot and Viogner. Although they were told that Merlot was not supposed to do well here, they took a chance and it paid off. Due to just the right combination of location, soil and luck, Merlot does do well on Hunting Creek, and according to Sandy, "Might even be Hunting Creek's best".
I was able to stick around until later that day to see the next step in how grapes are processed for wine, called crushing and de-stemming. Between the picking and crushing, I had time to chat with Milt and Sandy and find out more of how they came to have a Vineyard in Virginia.
The McPhersons told me, they already owned the farm property in Clover where Hunting Creek Vineyards now operates, but weren't really doing anything with it. They knew they wanted to farm something but didn't quite know what.
They considered other fruits and berries, but orchards took so long to mature that return on the investment took too long. Other crops were more labor intensive and so were ruled out. They were already leaning in the direction of grapes when they consulted the Cooperative Extension.
Filling in the blanks in a later conversation they said, "The Cooperative Extension agent for Halifax County at the time we were developing our plan to plant something was Larry McPeters. Larry told us that we could grow almost anything we wanted to in Halifax County and recommended we make a list of 10 things that we might want to grow and then get back to him. At the time we were only planning to grow the grapes and sell them and make our operation more of a seasonal rather than continual endeavor. After making small batches of wine for ourselves and selling the majority of our fruit for a couple of years we realized that the full satisfaction of grape growing for us is taking the process from the ground to the bottle.
We have received enormous joy from sharing our wine with friends and family. We appreciate the interest Larry took in encouraging us to grow grapes."
The idea of having a winery complete with a tasting room and farm tours really solidified when the McPhersons attended a lecture by Richard Smart, a world renowned viticulturist from Australia. At this lecture they learned more about the economics of the grape. They were told, "Growing and selling the grapes returns a modest financial gain. Having a winery and making wine from those grapes returns 4 fold the amount of just selling the fruit. Having agritourism in the area where the winery is returns 7 fold the amount of just selling the fruit." Although they were not sure if these numbers were exact for the region, the principle still made sense. They were sold.
"AHHH the Crush"
After some socializing and a late lunch it was back to work for "The Crush".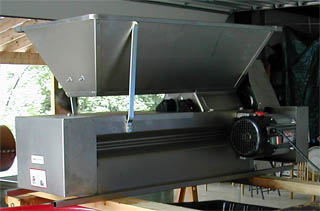 The first part of the process involves crushing and de-stemming the grapes. Hunting Creek uses a commercially available crusher/de-stemmer. From the crusher/de-stemmer the grapes go to a sorting table of their own design. At the sorting table, latex-gloved sorters pick out the remaining bits of stem and other pieces which are not wanted in the wine.
From the sorting table the crushed and cleaned product is feed into a vat for additional processing and eventual fermentation.

Part of the fun of wine making is experimentation. Milt and Sandy shared a couple of their secrets. In addition to using yeast with different properties, they sometimes use different grape combinations. One of their favorite recipes combines the skins of white grapes with the red grapes during fermentation.
Harvest/Hurricane Party
Saturday about noon, with rains from the outer edge of now tropical Storm Hanna abating, we headed back out to Hunting Creek Vineyards for the combination Harvest and Hurricane Party. Most of the people from Friday had returned, along with those from the other harvesting days and a number who had planned to help pick on Saturday.
The rain came and went throughout the day, but we were spared the worst, and there was room for all under the shelter of their large winery building.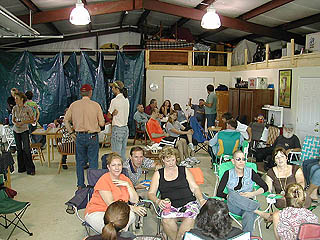 As promised, there was plenty of fun, food, and fellowship. There were even people from other nearby vineyards who came to help celebrate. Wine from previous years was sampled, notes were compared, and stories of other harvests flowed. A good time was had by all. Along with many others, we have already volunteered to come back next year.
Future Plans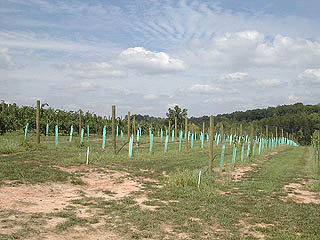 With the success of their current crops, the McPhersons have already started increasing the acreage devoted to wine grape production. In August of this year, Hunting Creek was granted a Federal ABC farm winery permit. So in addition to larger vineyards, they are making plans to put in a tasting room and make tours available. We wish them continued good luck and can't wait to come back for a tasting and tour.