---
Main Street Southside
---
Danville's Downtown Renaissance
Urban renewal stories can be read in headlines all across this nation today. Southside Virginia has not been left behind in this movement. Downtowns in several Southside communities are experiencing a resurgence of activity in the form of restaurants, unique shops and even residences.
Danville has seen a flurry of change in the last few years. Buildings are being restored and awaiting more entrepreneurs and residents. Outdoor areas have been developed for its residents and visitors. Spaces that were once used for various shops are being converted to chic bagel shops, stores selling decadent chocolate delights, and cozy coffee houses, which serve a hardy meal to boot. We even have a hardware store on our Main Street. Now, how American is that?
Downtowns offer a variety of activities and cultural offerings. Danville is not short of things to do while strolling the streets and back alleys. One of the major assets of the city is the Dan River.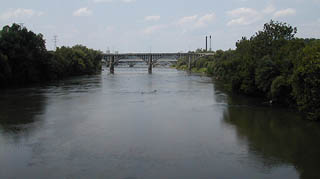 Most cities crave having such a natural attraction in their backyard. Down in the Tobacco Warehouse District, the city's fathers had the insight to capitalize on their resource. Not only does the river provide the city and surrounding areas electricity, but it also offers a wonderful get away in the middle of all the hustle and bustle. Over 7 miles of walking paths, pocket parks, and two large recreational areas, Dan Daniel and Anglers Park, all hug the banks of the river and showcase its natural beauty. Dan Daniel is home to the area's minor league baseball team, Danville Braves. There are also mountain bike trails, picnic spots, soccer/baseball fields and direct access to the river for boating and fishing.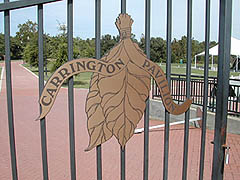 The Carrington Pavilion at the main entrance to the River Walk provides outdoor entertainment space similar to the Hollywood Bowl where concerts of all types can be heard by music enthusiasts. Across the park from the pavilion you will find the Community Market where local farmers and crafts people sell their local produce and crafts. A great place to find delicious baked goods and meet your neighbor at the same time. The Danville Science Center and Natural History Museum housed in the historic train depot also grace this section of the Warehouse District. Both of these house traveling and permanent exhibits. While there, you will find the Butterfly Station that houses different varieties of butterflies and plants. You can even catch a train to Penn Station in NYC from this spot.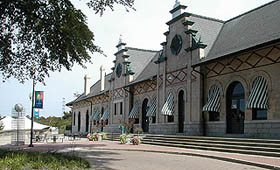 New corporations are also setting up shop in old warehouses and turning them into new workplaces. Luna Nanoworks, Infinity Global Packaging and Horizontech all call Bridge Street in this district home.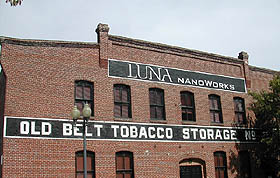 These firms focus on research in the bio and medical fields all the way to packaging for some the nations high end retailers. We hope to see more companies like this moving into the area. Not only do they expand the employment options, they bring in new ideas and people who enrich the entire community.
As the office and technology sectors grow, so does the need for housing downtown. One of the first projects was the Crossing Apartments which parallels the Dan River. The Burton opened in 2007 and changed the face of living in Danville forever. Condos very reminiscent of what you would find in large metropolises; with exposed brick walls, salvaged wood floors and the original support beams incorporated into the design of each unit. This year has seen the completion of Lindsay Lofts and Lynn Street Lofts in which the developers turned derelict buildings in the Warehouse District into upscale living spaces. Other projects are in the works, and with the return to urban living, should continue the momentum for years to come.
Between the Tobacco Warehouse and the Main Street Districts, there are a few businesses you may want to explore. The Checker Tree is the perfect place to pick up a quick snack or just relax and play come checkers. Riverwalk Equipment and Supplies has all your needs covered when it comes to a party. They offer hard to find paper items for the different seasons or for anytime entertaining. VC's is like walking back into a 50s diner. It has some of the best hot dogs in town and good homemade pie. On Saturday evenings, you will catch some of local talent during their jam sessions.
Before you start exploring the main section of Main Street, jump across the river and up the hill to the newly restored North Theater. Musical and theatrical productions are announced on the marquee. There is a great diversity of entertainment happening at the North. There is also an immerging plan to turn the area around the North into an arts district. A dance company is looking at that area right now to do a studio.
As you make your way back to this side of Main Street you will notice a change happening. In the last couple of years new businesses have opened offering a variety of products and services. Amburn Salon and Zinc Total Salon will pamper the outer you with spa like treatment. In Lou's Antique Mall, one can pick up small pieces of Americana or purchase a late 18th century corner cupboard. Want something to eat?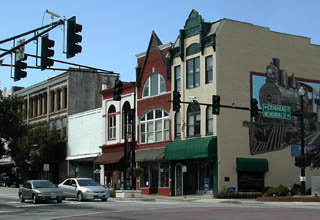 Bronx Boy Bagels will tempt you with their homemade soups, deserts, variety of deli meats that pair wonderfully with their made fresh daily bagels. In Good Taste indulges your senses with a variety of chocolates and sweet concoctions as well as catering. As you walk, you will come upon The Coffee Emporium which offers good ole' comfort food along with freshly roasted gourmet coffees. Theo's is the new kid on the block and the only place in Downtown Danville to get hardy Greek cooking. They have the usual of sandwiches and lunch plates, but you have to try the Greek chicken and grape leaves.
If you are looking for something special when it comes to clothing, Rippe's for women, and Woods Menswear gives the avid consumer exactly what they need. Both have been Danville fixtures for the last few decades and dressing some of this city's well heeled. If you have a jewelry fix, Commonwealth Gold will cure you with one of their brilliant original designs or something from the past that is both elegant and different from what you see today. Riverland Music is a big plus for anyone with a passion for musical instruments or accessories.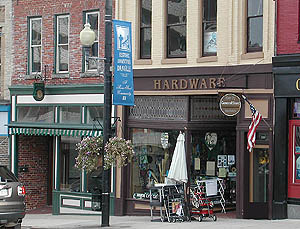 We even have River City General Store, which is reminiscent of the local hardware stores of yesteryear. You can pick up screws, cast iron cookware, numerous household items, and all the way to vegetable plants in the spring. One of our most unique retailers is Dixie Bags & More, which has a large selection of local and regional artists' works, gourmet food items and of course, unique handmade bags made of the finest fabrics.
Make your way up Main to Millionaires Row, which adjoins the downtown commercial district. You will discover the Southside Center for Preservation and History which is dedicated to the preservation of things historic and significant in the region, and Danville Education Arts and Cultural Center where the Danville Symphony is now housed. Further up Millionaires Row you will find the Danville Fine Arts and History Museum housed in the historic Sutherlin Mansion, which was used by Jefferson Davis during the Civil War as the last capital of the Confederacy.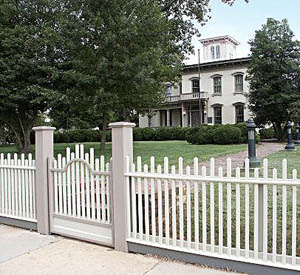 Traveling exhibits as well as their permanent displays will keep anyone captivated for hours. Currently there is an exhibit from the Smithsonian on music and its impact on culture. While there, pop over to a Danville staple, Midtown Market. This has been offering fresh fruits and vegetables, meats, grocery items and homemade chicken salad for over 50 years. If you are in the mood for something more, say sushi, Yene's Café would fit the bill. This section of downtown offers you a variety of historic housing types from Federal, Greek Revival, Italianate, Victorian and early 20th Century architecture. Walk the streets and you will be taken back to a time of the horse and buggy; when people showed their wealth through building elaborate dwellings of superb detail. This district is quite intact and experiencing a period a restoration and renewed interest; especially in the Five Forks district where five streets converge in a small commercial area. Restaurateurs, artists and regular citizens are rediscovering this forgotten corner of Danville.
So, what are the future plans for downtown and its neighboring districts? They are numerous. A new large-format theater planned for the Science Center and the opening of the new sections of the Riverwalk and expanded parking options for the Warehouse District. We hope to see a boutique hotel and conference center; the continuation of historic building and warehouse conversions to a mix of office, entertainment and residential; more cultural and entertainment options for the city's residents and out of town visitors. In the coming months we are looking forward to more diverse dining options and shops offering one of a kind items from area artisans. Please come and take a look at what this historic city has to offer as downtown emerges into a district where you truly can live, work and play.
_____________
Article Contributed by
Mark Willard, Barbara Brande, and Lizbeth Sater,
Members of the Danville Downtown Development Assoc.
Photo of the Sutherlin Mansion - Danville Museum
All other photos Discover Southside Staff