---
Ask Bubba
---
Advice from Bubba's noggin'
Dear Bubba,

My nephew (I'll call him Joe) is going off to college this fall and will be living in the dorm. Me and his Pa got him one of those little 'fridgerators and a microwave so he can save some money on food. Joe loves him a baked 'tater, so he asked his Pa and me how to make one in the microwave. Now, neither his Pa or me is what ya might call a chef, so we was hopin' you could help us out with a recipe.

Signed,

Not a chef
Dear Not a chef,

First, get two medium size bakin' 'taters. Put the first one in the microwave on high. Cook it till it explodes. Don't cook the other one quite so long.

Bubba
------------------------
Dear Bubba,

My daughter wants some of those jeans with the rips and fuzzy holes in them that all the kids are wearing now-a-days. Well DANG; them things are like SIXTY DOLLARS in the retail store. I am not made of money, but I am pretty crafty, is ther a way I can make one of her old ones from Wally World look like those fancy ones?

Signed,

Broke but handy
Dear Broke but handy,

Sure you can. Take one of her old blue jeans and put 'em in the wash with a couple big ol' rings of keys in the pockets. Then load up your washer with a few garden tools and some pieces of loggin' chain. Wash on the heavy duty cycle a couple times. Then dry with the same stuff in the dryer. They will come out just like them fancy ones from Apple-crumbly & Flinch or Air-o-possum.
And as a bouns, the enamel chips from the beatin' your washer and dryer will take make great sequins, you can use to decorate her up a denim jacket.

Bubba
------------------------
Dear Bubba,

Me and the Mrs. just got all new wall to wall carpet in the Double Wide. Now she is complainin' about having to push her old vacuum around the place all the time. She is even hinting that maybe I should do it!! I love the new shag carpet, but I will be danged If I am gonna start doing the houswork, and I can't afford a fancy new vacuum. How can I get outta this per-dicky-mint?

Signed,

Singin' the New Carpet Blues
Dear New Carpet Blues,

No problemo. Get her one of these babies.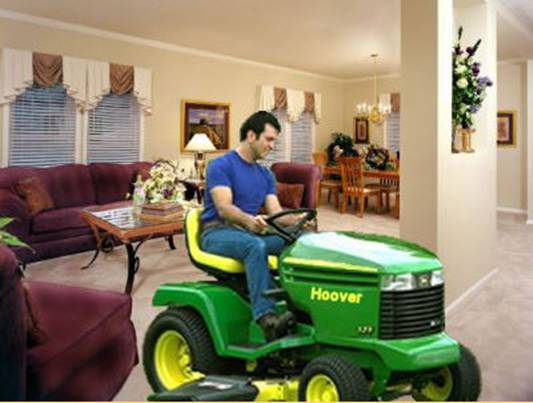 She'll have the place vacc'd up in no time. Heck you might even WANT to take a turn.
When you're done you can slap a set of mud tires on it and take it down to the fishin' pond or the tree stand.
Just don't fergit to rinse 'er off before you bring it back in the trailer.



Bubba

------------------------

That's all for this month.

If you have a question burnin' a hole in yer noggin, Bubba can help.

Just E-Mail Bubba
askbubba@discoversouthside.com

------------------------

Disclaimer: Use of the Bogus advice above is probably foolish.