---
Grow Something Dilly in your Herb Garden
(Herb of the Month)
---
Submitted by the Southside Virginia Herb Society
Dill is that wonderfully frilly herb that springs up in our gardens in April. Anethum graveolens, the botanical name for Dill, also known as Dillweed and Dillseed, is from the Umbelliferae family. The name is thought to have originated from the Anglo-Saxon 'dylle' meaning to soothe or lull. It is native (and grows wild) in many areas of the world including Southern Europe and the Mediterranean countries; Western Asia and North and South America. It was used by Egyptian doctors 5000 years ago and traces have been found in Roman ruins in the UK. In the Middle Ages it was thought to protect against witchcraft. It has a longstanding reputation as a remedy for indigestion and ulcers.
One of the easiest herbs to grow, Dill is a re-seeding annual and can grow to a height of 5 feet. The flowers are tiny yellow/green on top of soft and feathery foliage. Dill's entire seed-to-seed performance can pass in only two months or faster.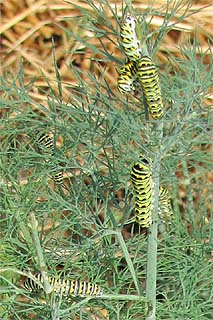 Grow some dill this spring and you may be visited by Black Swallowtail Butterfly caterpillars. There will be plenty of dill for your cooking and the caterpillars.
Picture by Grace McCrowell

Although you can often find dill seedlings sold along side other herbs in the spring, this is one herb that is not a lover of being transplanted and always grows best when sown directly into well-drained soil that gets full sun. You can start sowing in April, and to make sure you always have a few Dill stems when you want them, make successive sowings at three-week intervals until 10 weeks before your first fall freeze. It is important that you keep Dill away from Fennel and Caraway if you are growing these because they will cross-pollinate and you will end up with a weird hybrid that won't taste too much of either herb.

Dill leaves are best used fresh, so it is recommended that you keep a supply of plants rather than store the leaves. But if you find that you have cut more dill than you can use, dry the excess in the microwave. Spread the dill in a single layer on a paper towel and microwave on high for 3 minutes. After microwaving, remove and discard the hard stems, crumble the leaves, and store in an airtight container protected from light. Once the seed heads begin to form, it is time to stop cutting dill for fresh use. Allow the seed heads to develop and after they are completely dry, cut them. You will be able to remove the seeds easily with your fingers. The seeds can be used in baking but be sure to save a few for planting next spring.

Dill is the larval plant for the Black Swallowtail Butterfly. The butterfly will lay her eggs on dill and when the eggs hatch the larvae will feed on the dill plants. It would be rare for the caterpillars to completely destroy a plant. Just leave the caterpillars be and in a few weeks you will be blessed with butterflies sipping nectar from your flowers.

Caper-Dill Sauce



3/4 cup mayonnaise
1/2 cup sour cream
1/4 teaspoon grated lemon rind
2 tablespoons fresh lemon juice
1 tablespoon drained capers
2 teaspoons chopped fresh dill
1 teaspoon Dijon mustard
1/4 teaspoon salt
1/4 teaspoon pepper

Stir together all ingredients. Cover and chill up to 3 days. Great over fish or crab cakes.

Diverse in the kitchen, snipped tender Dill leaves enhance the flavor of dips, herb butter, soups, salads, and sauces or fish dishes. The seeds are used in pickling, and can improve the taste of roasts, stews and vegetables, or for brewing a tummy-pleasing tea. Try grinding the seeds to use as a salt substitute. Both the flowering heads and seeds are used in flavored vinegars and oils.

_________________

March is the time to buy supplies, order seeds and make space to start seedlings indoors. On nice sunny days, get out and clear the early bloomers. No doubt the crocus is up and may be blooming! Spread mulch and compost to be worked into the ground in the early spring.

Early March is a great time to get out and evaluate winter damage.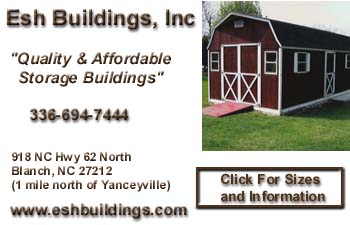 Prune damaged limbs from shrubs and trees. Many trees, shrubs, roses and vines should be pruned while the plant is dormant and before new growth and budding has started in the spring. When unsure of proper pruning, contact your local Extension Service or Master Gardener Association.
_________________
The Southside Virginia Herb Society is a group of local enthusiasts interested in learning and sharing knowledge of gardening, crafting and cooking with herbs. Members come from Halifax, Mecklenburg, Lunenburg and Charlotte Counties.
For more information contact Kathy at 434-454-4208 or e-mail kathymmmg@hotmail.com.
_________________