---
Virginia State Parks Celebrate 75 Years
---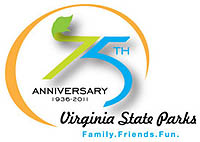 Let the Summer Begin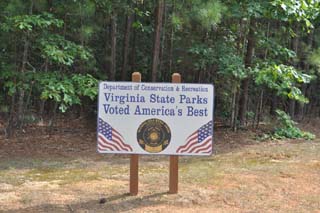 Consistently voted "America's Best" state parks, Virginia parks provide many outdoor recreational opportunities, affordable overnight stays and numerous special activities; all within a short drive from anywhere in the commonwealth.
For day trip activities many parks include, hiking, biking, boating, horseback riding, geocaching, letterboxing, wildlife and historical displays and more. If you are looking for reasonably priced overnight accommodations, many of Virginia's parks offer camping from ultra primitive on up the scale to
cabins as nice as any you will find in the private sector.
In June 1936 Virginia became the first state to open an entire statewide park system on the same day. Its first six parks were Douthat, Fairy Stone, Hungry Mother, Seashore, Staunton River and Westmoreland. Today Virginia is home to more than 35 state parks. This puts at least one park within an hour or less of most Virginians. From most anywhere in Southside Virginia there are over a dozen state parks within a reasonable day trip.
2011 marks the 75th anniversary of the Virginia state park system. Starting in June of 2011, the Virginia State Parks began a summer-long celebration.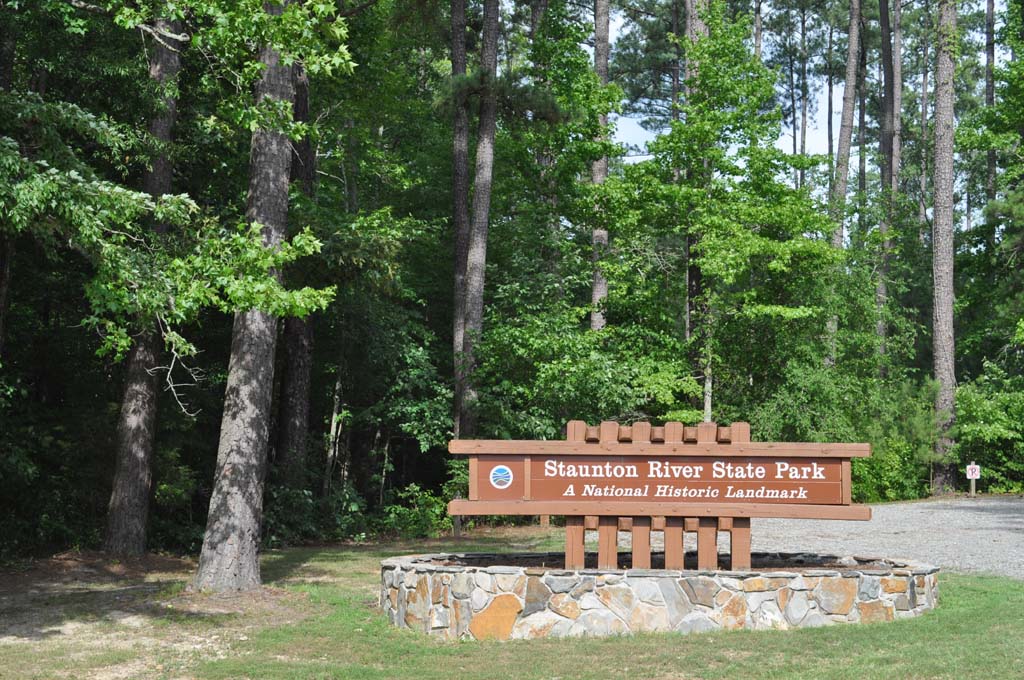 All through the summer Virginia state parks will have special programs, contests, activities and souvenirs.
For the opening day of the summer anniversary celebration, we visited Staunton River State Park, just east of South Boston. Staunton River State Park is one of the six original state parks.
In addition to the other activities the day we visited, there were inflatables and games for the children, wagon tours of the park, a free boat ride and even a birthday cake to kick off the season. Smokey Bear even made an appearance with safety tips and stickers for the kids.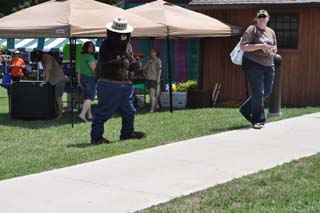 Even if you didn't make it out to one of the state parks for the June celebration, you still have plenty of time to join in. From June 15 through September 5 there will be many special programs and activities. To find out more about these events, visit the Virginia State Parks website or better yet, visit a park near you. For some great summer fun ideas, check out the list of "75 things to see and do in Virginia State Parks."
If you are feeling lucky, you can participate in the 75 Days of Summer contest. There is an online version and an in-park version with prizes given away daily. Click here to learn more about the 75 Days of Summer contest. More detail will also be available this summer at www.virginiaoutdoors.com.
Although we visit Virginia's State Parks as often as possible we may not appreciate them as much as we should.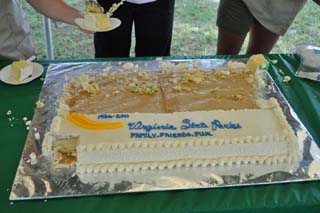 On our recent visit we had a chance to learn more about the park system's history and look at the parks and their relationship to the state and community in a different way.
After enjoying a piece of the celebratory cake we took a wagon ride around the park. When we arrived at the boat launch area, we were offered the chance for a pontoon tour of the river. One often hears how the state parks contribute to the local economy, but we tend to think of this in the abstract. Just numbers. On our visit we saw a real world example of this relationship between the park and local businesses. The pontoon boat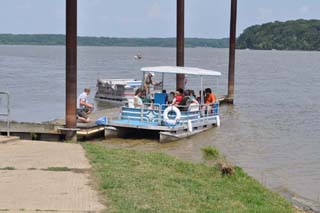 was provided by Bob Harris of River Traders Boat Rental, which is located just outside the park entrance. River Traders donated their boat, time and fuel for the event. When we asked about this, Harris told us, "We make a living from the park visitors. The park has been very good to us; this is just a way to give something back." We think that is a great relationship.
State Parks are a great way to enjoy the outdoors for a day or a vacation without breaking the bank. With the cost of gas near record highs, and other travel related expenses eating into everyone's budget this year, State Parks offer an affordable alternative for vacations and day trips. To find a Virginia State Park near you or even find a new park you have not visited yet, check the list of Virginia State Park Locations. You'll be glad you did.
Additional Pictures of 75th Anniversary at Staunton River State Park