---
Berry Picking
---
Fun Outdoor Activity or Ethical Dilemma?
By Maria Scinto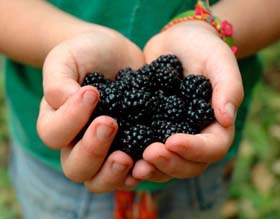 It's that time of year again when berries are ripe, fresh, and best of all local,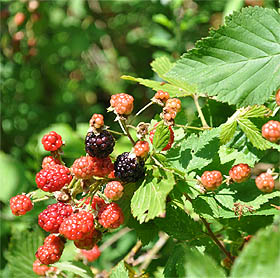 so they don't have that trucked-in-from-California flavor. In fact, if you want to make sure that your berries are as fresh as can be, and as local as you're willing to drive, you can even find a berry farm that will let you pick your own.
Okay, sounds like a fun family outing, and my son can't get enough of any and all types of berries. Needless to say, he was definitely up for a trip to our local pick-your-own blackberry farm (whose name I will not disclose, for reasons to be revealed shortly).
The problem with my plan to spend the perfect early-summer Saturday lay in the fact that my son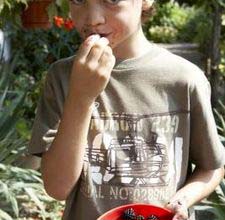 quite literally cannot seem to eat enough blackberries, although he's sure willing to try. I mean, everyone eats a few berries now and then while they pick; berries that do not get added into the total when the time comes to pay up. It's kind of like finding a quarter on the sidewalk and not reporting it to the IRS. (What, you mean you are supposed to report it? Oops.)
My son, however, must have been putting away about five berries for each one that went in his basket. I tried to justify it at first by saying that at least we were providing free farm labor, but after he'd eaten what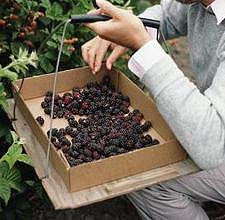 appeared to be over a quart of berries (at $3 a pint!), I just, uh, moved down a row so I could better pretend I didn't see what he was doing. Plausible deniability is the better part of valor, or something. I did also step up the rate of my own picking a bit, so we could at least buy maybe half as many berries as he ate.
At the end of the day, he got a free (and very healthy) lunch, and I got a sunburned nose. And we did actually purchase three pints of blackberries. As I assumed my son wouldn't want any more berries for a while, I decided to make the following recipe for a blackberry-based barbecue sauce. I adapted it from one of Emeril Lagasse's recipes, but he used raspberries in place of blackberries.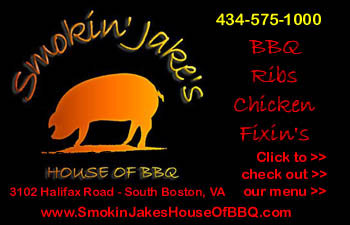 Also his recipe was slightly more complicated, and I skipped the whole yelling "BAM!" thing as well. Anyway, as it turned out I was wrong about my son not wanting more berries, so I only got to make half a recipe. I guess we'll need to go berry picking again soon, but we'll try another farm next time.
Blackberry Chipotle Sauce Recipe
• 1 Tablespoon olive oil
• 2 teaspoons minced garlic
• 2 teaspoons chipotle chiles in adobo, chopped
• 2 pints fresh blackberries, rinsed
• 1/2 cup cider vinegar
• 3/4 cup light brown sugar
• 1/2 teaspoon salt
Preparation:
In a medium saucepan, heat the oil over medium-high heat. Add the garlic to the pan and sauté for one minute. Add the chipotles and cook, stirring continuously, for one minute. Add the blackberries and cook until these are soft, two to three minutes. Add the cider vinegar and stir it around to deglaze the pan. Add the brown sugar and the salt and bring the sauce to a boil.
Reduce the heat to medium and simmer until the sauce is thickened and reduced by about half, this should take eight to ten minutes. Remove the sauce from the heat and cool before using.
If you prefer a clear glaze, strain the sauce through a fine mesh strainer, pressing down with the back of a spoon to squeeze out as much liquid as possible.
Yield: about 1-1/2 cups