---
Southside Gardener
---
This month's To Do List for the Gardener
Contributed By William H. McCaleb
Master Gardener Coordinator
Virginia Cooperative Extension
What to do in July & August
PLANT
It is not always convenient to plant at recommended times. You can plant perennials and annuals at any time as long as you water your plants well. It helps to shade them the first few days. Shrubs in containers can be planted at any time as long as they are well watered.
PRUNE
Remember not to prune summer or fall blooming shrubs now as the flower buds will be lost.
Remove dead, diseased wood, and water sprouts from dogwoods if not done earlier.
Watch for "die-back" on rhododendrons and camellias which may cause a few leaves to curl up, or an entire branch to die. Prune the branch back to healthy wood as soon as it is discovered anytime of the year.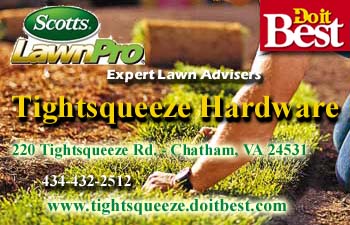 Cut back new wisteria side shoots to about 1 foot to encourage formation next year of flower buds. Young vines need to be tied up until they produce tendrils.
FERTILIZE
Feed summer flowering shrubs after they bloom. Continue feeding flower beds every week with liquid fertilizer.
WATER
Watering this month is critical for trees and shrubs. The soil should be watered 4-6 inches deep.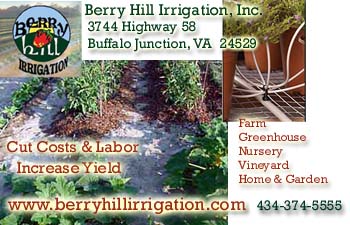 The best time of day to water is early morning. Water evaporates too quickly during the middle of the day, and it is better for plants not go into the evening with damp foliage as they may cause fungus and mildew to develop.
During hot weather water flower beds weekly, if there has not been 1 inch of rain.
Water azaleas, rhododendrons and camellias well as next year's flower buds are forming now. If not watered, they will drop their leaves and buds. Keep plants well mulched.
TIPS
Set lawn mower blades at 3 ˝ inches, or higher, to provide shade for grass roots and keep your lawn greener through dry periods.
In early July stem-tip cuttings for propagation may be made of azaleas, lilacs, forsythias and viburnum.
Dahlias may need special attention for a high quality of bloom in September. Pinching and debudding are extremely important until August 1. Strong stakes, which are best driven into the ground when tubers are first set out, are necessary to support the fast growing plant.
"Butterflies are like flowers on the wing." Some of the annuals they really enjoy are zinnias, impatiens, cosmos, and verbenas. In your perennial garden they also like butterfly weed, lantana, coreopsis, goldenrod, purple coneflower, bee balm, yarrow, daisies, asters and Joe Pye weed.
"Exercise for free – Grow A Garden This Year"
If you have questions about your landscape plants, you can also call the Extension Office and ask to speak to a Master Gardener or the Horticulture Technician.
_____________________
William H. McCaleb
Program Assistant, ANR
Master Gardener Coordinator
Virginia Cooperative Extension
171 S. Main Street
P.O. Box 757
Halifax, VA 24558-0757
434-476-2147
fax: 434-476-7777
http://www.ext.vt.edu