---
Oh Christmas Tree...
---
Make getting a Christmas tree an event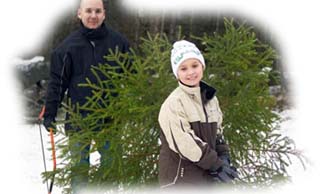 If you haven't gotten your Christmas tree yet, consider one of the "Choose and Cut" tree farms, or one of the farms in the area which offer farm tours or additional "agritainment" to make the experience an event.
Sure you can just run down to one of the big stores,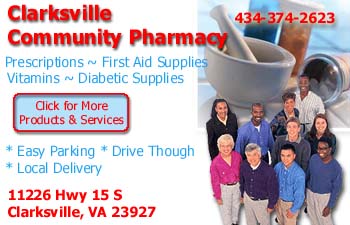 or seasonal places on the roadside which set-up to sell trees.
But why not make a day of it?
How about taking a hayride out into the fields to pick your own tree, followed by a cup of hot cocoa or apple cider?
Maybe a trip to see Santa for the kids.
Several farms in the area offer such activities.
Here are a few tree farms or farms with holiday events we are aware of that are in or near Southside Virginia, along with their contact information.
Where possible, we have verified these places are open and will have trees and events as listed, but it is always good to call first to confirm.
If you have a tree farm or holiday events on your farm, or know of one we have missed please let us know and we will try to add it.
Send the info to events@discoversouthside.com
After you have you have looked over the list and located a place to get your tree, be sure to check out the tips on tree care and selection at the end of this article.
=================================
A. M. FOG
9264 Critzer Shop Road
Afton VA
540 456-7100
Second Saturday in Dec AM Fog will have a band on site.
http://www.amfog.net
=================================
Ayers & Kreh Christmas Trees
1531 Ayers Orchard Road
Stuart VA 24171
276-694-3072
276-692-7326
rckreh@embarqmail.com
Products: White and Scotch pine Christmas trees; blue and Norway spruce; Concolor and Nordmann fir; Leyland cypress; wreaths and roping.
Days & Hours: 9 a.m.-4:30 p.m., Friday-Sunday, beginning weekend after Thanksgiving.
Activities & Events: Bow saws provided. Complimentary tree shaker and baler, refreshments and wagon ride to fields. Panoramic view of the Blue Ridge Mountains.
http://vagrown.vi.virginia.gov/product.aspx?pid=65963&category=CHRISTMAS TREES
=================================
J & J Treeland
2182 Harris Creek Road
Prospect VA 23960
Contact: John A. Young
Phone: 434 574-6667
Fax: 434 574-5144
Products: Choose-and-cut Christmas trees, white and Scotch pine; Norway, Serbian and blue spruce; Concolor, Douglas, Canaan and Grand firs. Wreaths and roping. 12 ft. trees available.
Days & Hours: 9 a.m.-5 p.m., Monday-Saturday; 12 Noon-5 p.m., Sunday. Open November 28 - December 24.
Activities & Events: Hayrides and train rides. Saws available or we'll cut. Trees netted. Free tree bags.
http://vagrown.vi.virginia.gov/product.aspx?pid=65984&category=CHRISTMAS TREES
=================================
Owen Farm Tours
1668 Silver Creek Road
Danville VA 24540
434-685-4123
434-728-3410
434-728-2698
E-mail: info@owenfarmtours.com
Web site: www.owenfarmtours.com
Products: We are a farm tours farm that offers special tours throughout the year. A visit with the animals, hayrides, pony rides, pumpkin patch in the fall, corn maze, make your own butter, seed planting, milk "Daisy" the no-kick-cow, birthday parties, farm camp for children, visits with Santa, fresh cut fraizer fir trees and much more.
Days & Hours: 9 a.m.-6 p.m., Monday-Friday by appointment; 10 a.m.-4 p.m., Saturday, open to the public, March-December. Closed Sundays except during October.
=================================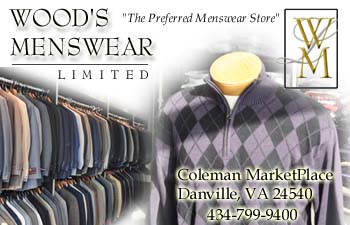 =================================
Pick-A-Pine Plantation
1185 Deer Ridge Trail
South Boston VA 24592
434 476-8771
Contact: Don and Jenny Hochstein
E-mail: pickapine@gmail.com
Web site: www.gcronline.com/pickapine
Products: Choosing a tree from Pick-A-Pine Plantation is an experience sure to put the whole family in the mood for a country Christmas. After choosing and cutting your fresh Virginia-grown tree, enjoy a hay ride around the farm and see the bee hives, horses, milk cows, chickens, ducks, geese, and guineas in their daily farm environment. Maybe the electric-generating wind turbine will be turning, providing the farm with some alternate energy!! Stop in the gift shop for hot chocolate and see and smell the freshly made wreaths and garland/roping. Purchase fresh free-range eggs and honey harvested right on the farm. Enjoy handmade local crafts and gift items.
Days & Hours: Open day after Thanksgiving through December 20th, Fridays & Saturdays from 9 - 5, Sundays noon - 5, weekdays by appointment.
=================================
Piedmont Tree Farm
2752 Moons Rd.
Long Island, VA
Ph: 434-324-7966
treeman1658@yahoo.com
www.virginiachristmastrees.org/farms/piedmont/index.html
Contact: Wayne and Judy Compton
Products: Wholesale and Choose and Cut Christmas Trees:
White Pine, Scotch Pine, Norway Spruce, Leyland Cypress
Piedmont Tree Farm is located in Pittsylvania County, Virginia. It has been a family owned and operated farm since 1979.
Our mission is to grow quality trees rather than quantities. We enjoy working with our customers on a one to one basis, striving to satisfy their needs. We take great pride in growing and delivering quality fresh Christmas trees.
Hours:
Our choose and cut business opens Friday after Thanksgiving, and we close on December 24th.
Our hours are 9-5 Monday through Saturday, and 1-5 on Sunday
1st Sat in Dec is Family day - bring the kids for hot chocolate, cookies and experience the farm.
=================================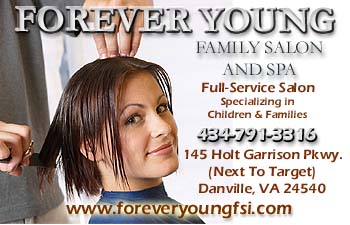 =================================
Piney Mountain Christmas Trees
2071 Piney Mountain Road
Appomattox VA 24522
434 352-2226
Contact: Wayne and Beverly Bowman
E-mail: pineymttrees@yahoo.com
Web site: www.virginiachristmastrees.org/farms/pineymtn/index.html
Products: Choose-and-cut Christmas trees, white pine and Scotch pine. Fresh-cut Fraser fir. Wholesale white pines are also available. Live wreaths made on site. Wholesale white pine trees are also available. Tree stands available. Virginia's Finest
Days & Hours: 2 p.m.-5 p.m., Friday; 9 a.m.-5 p.m., Saturday; 1-5 p.m., Sunday, starting Thanksgiving weekend
Activities & Events: Hand saws provided. Trees wrapped and loaded.
=================================
Reese Farms, Inc.
8125 James D. Hagood Highway
Scottsburg, VA 24589.
Phone: 434-454-6808
Email: reeseinc@meckcom.net
www.reesesfarmfresh.com
Christmas trees, handmade wreaths and roping; gift baskets.
Directions: Highway 360 east, 8 miles east of South Boston and Halifax, Virginia. Open: 8 am to 7 pm, Monday to Saturday; 1-7 pm, Sunday; open February to December. Farm tours; pumpkin hayrides. We feature our own farm-grown produce, picked fresh daily. Pat's pickles and preserves. Bedding plants, potted plants, and hanging baskets also available.
=================================
Swinging Bridge Tree Farm
12171 Roebuck Rd.
Abingdon VA 24210
Contact: Ray and Paige Scott
Phone: 276 628-8214
E-mail: nathanielrp@gmail.com
Web site: www.scottswingingbridge.com
Large selection of select and cut trees including White pines up to 12 ft., Norway spruce up to 12 ft., Cypress and Fraser firs up to 6 ft. Saws and twine provided for cutting or if needed, we will assist you. Come see us and enjoy the beautiful views along the North Fork of the Holston River
Days & Hours: Nov. 26 through Dec. 10. Open Friday, Saturday and Sunday during daylight hours.
=================================
White Horse Farm
405 Redfield Lane
Callaway VA 24067
Contact: Stuart and Cindy Sours
Phone: 540 489-5095
E-mail: info@thewhitehorsefarm.com
Web site: www.thewhitehorsefarm.com
Choose-and-Cut Christmas Tree Farm. Over 20 years of growing experience specializing in White Pine, Scotch Pine, and limited Spruce and Fir. Fresh cut fir, wreaths and refreshments available at our cozy gift shop. See the website for photos, tree information and directions/printable map.
Days & Hours: The day after Thanksgiving, weekends through December and by appointment
=================================
If none of these is near you, you can check for one on the following sites.
Virginia Christmas Tree Growers Association Farm WebPages
Search for a tree farm at:
Virginia Christmas Tree Growers Association Farm Locator
Or
www.PickYourOwnChristmasTree.org
Both websites offer some tips to make your experience more enjoyable.
The Pick Your Own website suggests:
"Please, ALWAYS call the farm or store BEFORE YOU GO to confirm their supply, their hours and whether they are allowing choose-and-cut or just precut trees. All three can change during the short Christmas season, due to weather, demand and the farmer's business conditions!"
Once you get your tree home,
William McCaleb from the Virginia Cooperative Extension offers the following tips.
When you bring your Christmas tree home make a fresh cut 2 inches up the trunk. Place the tree in a bucket of water for 2-3 days and make another fresh cut in the trunk when you bring it indoors. Continue to water while the tree is in the house.
When the tree is discarded, consider decorating it for the birds. Prop tree upright and hang with suet, seed containers, and pinecones spread with peanut butter. The alternative is to cut branches from a discarded Christmas tree and lay over bulb or perennial beds, which protects your plantings from heaving in the cold weather.
Special Thanks to:
K. Jason Fisher
Extension Agent/ANR
Forestry and Natural Resources
Central District
P.O. Box 757
Halifax, VA 24558

William H. McCaleb
Program Assistant, ANR
Master Gardener Coordinator
Virginia Cooperative Extension
171 S. Main Street
P.O. Box 757
Halifax, VA 24558-0757
for their help in researching this article.
---