---
"On The Funside"
---
Special Deer Insurance
By Amy Hanek
Last month, I wrote about an unfortunate deer and its untimely death in front of my house. Tammy, a DSS reader emailed me about her Grandma and her deer-killing ways. Only Tammy's Grandma would use a rifle – not her car. Way to go Grandma.
This month, I decided to continue with this theme. 'Tis the season for deer to be everywhere – especially on the roads.
Two years ago, our insurance agent discussed these cute, furry animals. I will always remember that day and how it's benefited our lives in Virginia in more ways than one.
One night, last January, my husband called me from his cell phone on his way home from work. He sounded extremely upset.
"I just hit a deer," he said, "it just ran right out in front of me."
He assured me he was okay, but was furious. His poor truck. I almost asked him to bring home his road kill, but thought better of it. Venison stew AND a grumpy husband might be too much to handle.
Fifteen minutes later, a slightly damaged truck pulled into the garage. I checked out the damage. It wasn't bad. The front corner fender had a large dent, but it could have been worse.
Coaxing him into the house with a snack, I also handed over the phone. "You might as well call it in to the insurance company now." Tired and frustrated, he agreed.
I sat in the next room and tried to relax a little as he made this very important phone call. I began eavesdropping, as my husband gave the basic information to the attendant on the other end. My ears perked up as he said, "don't I have some… special deer insurance?"
My mind immediately flashed back to the day we met with our insurance agent near Smith Mountain Lake. We were sitting in those black-plastic chairs in the Allstate office, as our agent talked with us about those pesky deer. He explained that we should raise our comprehensible, so that our deductible would be lower. We nodded in unison and signed on the dotted line. I heard the word, "comprehensible" and my husband heard "deer" and "insurance."
So, here we were, my husband was on the phone with some lady that probably didn't know what he was talking about. I heard him try to explain himself. He realized he wasn't making any sense.
About ten minutes later, my husband hung up the phone and walked into our living room. Plopping onto the sofa, he looked exhausted. It had been a long ending to a long day.
"Did that lady laugh when you asked about your 'special deer insurance?'" I asked, trying not to giggle.
My husband began chuckling. Relieved, he hadn't lost his sense of humor, I joined in too.
"The worst of it was," he explained, "that call was recorded."
Our minds both formed a mental image of this woman and her co-workers in their break room, listening and laughing while he asked if he had "special deer insurance."
Thanks to our Allstate insurance agent, we not only saved money on our car insurance that January, but had a good laugh too.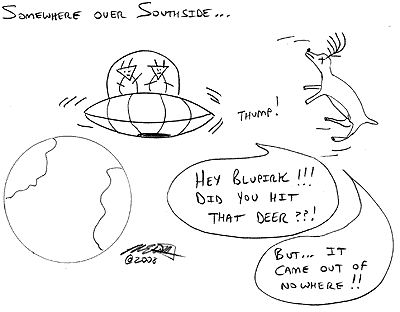 __________
Amy Hanek lives near Smith Mountain Lake with her husband, three kids, and two cats.
An experienced freelance writer, her articles appear in area publications including "Prime Living ". Her column "Just Add Water" runs in the the "Laker Weekly".
Amy is also working on a regional ghost book covering the areas of Lynchburg, Roanoke and Blacksburg. It is expected out by the end of 2009. Schiffer publishing is the publisher.
You can read more of her stories at
www.houseonthegladehill.blogspot.com
__________
Questions or comments about "On The Funside"
E-Mail amyh@discoversouthside.com
__________
On The Funside - Archives