---
South Bostonís Downtown Farmerís Market
---
Fresh Homegrown Produce
Granted, there is nothing like eating fruits and vegetables from your own garden. Hard work, dirt-stained nails, and sweat on the brow eventually lead to being able to enjoy the succulent fruit of oneís labor. There is a sense of accomplishment and fulfillment in eating daily produce, and stocking rows of canned goods from oneís own patch.
If, however, you donít have the time or the space to have your own garden, you can provide yourself and your family with fresh homegrown vegetables almost every day. You can still enjoy a sense of accomplishment in knowing that you are providing healthy food choices at your table.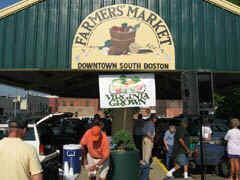 Visit the downtown Farmerís Market Monday through Saturday during the months of April through December. There you will find tender peas, red beets, white or red potatoes, turnip greens, lettuce, tomatoes, spinach, turnips, and a host of other vegetables or fruits that are in season.
Pretend youíve got your own spot in your backyard; visiting the Farmerís Market on Broad Street is like walking out your back door and coming back inside with freshly picked produce. The only difference is that you will have missed the back-breaking bending, dirt under your nails, and sweat dripping from your brow that is a necessary part of the process for gardeners.
"We want people to come here to get their produce and not have to go to Wal-mart to buy something that came from another state," one vendor stated at Saturdayís grand opening of the Farmerís Market. Granted, non-local produce is okay if thereís nothing better; but why settle for something that has been trucked across the country when you can buy produce from your own county and community?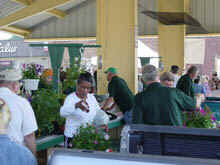 This yearís market got off to a good start a few weeks ago, and some of the same vendors are back this year. Others appeared on Saturday for their first day, not knowing quite what to expect.
Lynn Spry of Virgilina Acres unloaded her homegrown vegetables and herbs from the back of her pick-up truck. "I go organic all the way; I use no pesticides," she informed me. Her wares this year include spinach and lettuce; she also has cut flowers. "This is my first time, and I didnít know what to expect, but Iíll be back," she beams.
Mary S. Medley has been selling baked goods for over fourteen years. She says she had to do something to fill her time after she became a widow. Her treats include fried sweet potato pies, pound cake slices, and lemon tarts.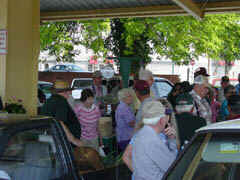 A contractor for thirty seven years, Dave Meadows has enjoyed growing his own vegetables and sharing them with his neighbors and friends over the years. "But it got to where people wanted me to deliver them to their door," he shares, "so I started coming to the market." Heís been coming for four years on Wednesday and Saturday. "I figured if I was doing all the work, people could start paying me," he smiles.
Moving up and down the aisles, one can hear farmers swapping stories and experiences. It is obvious that they know each other and have developed camaraderie over the years.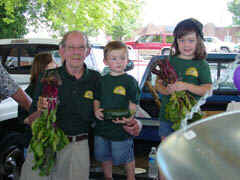 Meredith Bowman stops at Ray Satterfieldís table. "If I put these [green] tomatoes in a bag, will they ripen in a few days?" she asks.
"Yep. I tell folks that all the time, but they donít believe me," is his response.
Iím next in line at Rayís stand. When I ask for 2 pounds of new red potatoes, Ray tells me, "Pick your own; then youíll know what you get." I choose the smallest potatoes and can hardly wait to serve them with the tender peas I purchased from another vender.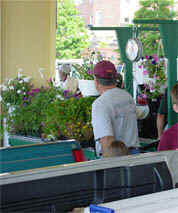 Charles Stallard of Alton is selling plants. I purchase a Liriope, and by evening it is planted in my flower bed, hopefully to bloom and spread every year. This is Stallardís first time, but heíll be back. In addition to plants, he is selling cabbages. "Iíve got a big crop of tomatoes, but theyíre not ready yet," he informs me.
Natureís Intent owner Chelsea Webber is purposeful in her planting and harvesting. "I use only organic methods," she shares. She has fresh dill and vegetables and will be bringing tomatoes in a few weeks.
Steve is from Baskerville, close to Boydton. He is selling plants and hanging baskets. This is his second year, and youíll find him there only on Saturdays.
While most vendors are selling vegetables or plants, Crooked Creek Bison is selling Bison in steaks, burgers, roast, liver, and stir fry, just to name a few. "Rip" Ripplinger says sales are slow. "Weíll see how it goes today, and then Iíll decide if Iím coming back," he comments.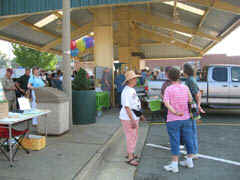 Master Gardeners are also on hand, with brochures and willing answers to questions.
The Farmerís Market began under the direction of Phil Ramsey, former extension agent and now free-lance artist. "I happened to run into Ray Maneri at the YMCA and found out he was town manager. I told him that Iíd like to get a market started to help the farmers in the area. He was very helpful in helping us get it started. A few years later, we were able to have a pavilion put there to help provide shade and protection from weather."
Does the man who was the brain behind the market still purchase items there, almost twenty years later? Phil replies, "We do stop there occasionally; unfortunately, they sell out so fast and we donít always get there first thing. But the produce is always fresh, and it beats buying from the supermarket. Plus," he adds, "with the price of gas, produce brought from a distance is going to cost us more than ever in the stores."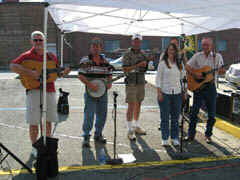 The Farmerís Market is open from April through December, Monday through Saturday. Saturdayís hours begin at 7:30 AM; all other days begin at 10 AM. Vendors stay, Ray Satterfield says, until they are sold out or else it gets too hot.
This yearís grand opening included music by Lawson Creek Grass Band, door prizes, free beverages and pastries.
So if youíre longing to cook up a mess of greens or want succulent cantaloupe picked fresh from the patch, come to the Farmerís Market. Youíll be glad you came!
Story text:
By Gertrude M. Slabach
Photo credits:
Graham Bryant and DSS Staff
__________
Born and raised in western Maryland, Gertrude Slabach has claimed Southside Virginia as home for over twenty four years. She is an RN and works part-time at Fuller Roberts Clinic in South Boston, Virginia.
Gertrude and her husband Dave have six children; four sons and two daughters.
She is the author of three books: Arenít We Having Fun Dying?!, Southside Glimmers, and Always Mamaís Girl. The books can be purchased at Windmill Farm Bake Shop, the South Boston-Halifax County Museum, or by contacting her at:
gertslabach@DiscoverSouthside.com
Read more about Gertrude Slabach's Books in print here >>>
__________